Crowds are packing Parliament Hill today to protest the federal Liberal government, vaccine mandates and COVID-19 restrictions
Publishing date:
Jan 29, 2022  •  4 hours ago  •  12 minute read  •  4327 Comments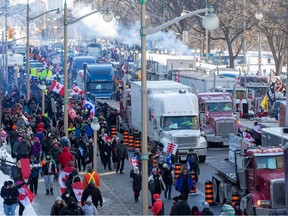 The day has dawned clear and cold in Ottawa, with wind chill at -35C. Welcome to Canada in January and welcome to the National Post's live blog on the Freedom Convoy 2022 demonstration in the nation's capital today. Here's what we know so far …
Advertisement
This advertisement has not loaded yet, but your article continues below.
General Wayne Eyre 'sickened' by people drinking at National War Memorial
Condemnation for whomever 'touched' the Terry Fox statue
Downtown Ottawa is jammed tight with traffic … and still the trucks come
Rideau Centre overwhelmed by unmasked protesters — and closed
Saskatchewan premier Scott Moe says unvaccinated truckers are no greater risk than vaccinated ones
Maxime Bernier is looking for Erin O'Toole: 'You must be with the people'
CBC says Justin Trudeau has been relocated from Rideau Cottage for his safety
5 p.m.
No facilities, no problem

By late afternoon, the crowd in front of Parliament's main gate grew so compact, it was hard to move, reports the Post's Anja Karadeglija from Parliament Hill. Maskless protesters seemed unfazed by the close proximity. People milled about and took selfies in front of Centre Block; one man planted a Quebec flag, made a lounger out of snow …and enjoyed his beverage.
The demonstrations stretched down Wellington Street and toward, but not fully into Byward Market. On the street in front of the National War Memorial, protestors climbed atop a loaded logging truck, and other danced on the memorial — prompting Canada's chief of defence staff to %7B%22provider_name%22:%22Twitter%22,%22provider_url%22:%22https:%5C/%5C/twitter.com%22,%22object_url%22:%22https:%5C/%5C/twitter.com%5C/CDS_Canada_CEMD%5C/status%5C/1487555335627943938%22,%22html%22:%22
I%20am%20sickened%20to%20see%20protesters%20dance%20on%20the%20Tomb%20of%20the%20Unknown%20Soldier%20and%20desecrate%20the%20National%20War%20Memorial.%20Generations%20of%20Canadians%20have%20fought%20and%20died%20for%20our%20rights,%20including%20free%20speech,%20but%20not%20this.%20Those%20involved%20should%20hang%20their%20heads%20in%20shame.<%5C/p>%E2%80%94%20General%20%5C/%20G%5Cu00e9n%5Cu00e9ral%20Wayne%20Eyre%20(@CDS_Canada_CEMD)%20January%2029,%202022<%5C/a><%5C/blockquote>%5Cn