Sixty per cent of current facilities are near Tokyo – a risky concentration
---
Japan's government has secured expressions of interest from over 100 regional centers willing to host new datacenters, as part of an effort to make the nation's computing infrastructure more resilient.
As pointed out in a January EOI, over 60 per cent of Japan's datacenters can be found in or near Tokyo – a city that experiences regular earthquakes and experienced blackouts in the wake of the 2011 Tōhoku earthquake and tsunami that damaged the Fukushima power plant. Another 24 per cent of Japan's datacenters can be found in the Kansai region, near the cities of Nagoya and Kyoto. While Japan has plenty more datacenters on the drawing board, Tokyo is the preferred site for many.
The government has sensibly concluded that digital infrastructure is critical to society and that having over 80 per cent of it concentrated in two locales creates obvious risks. Energy consumption is another concern, as authorities feel it is hard to access renewably sourced electricity in the nation's capital.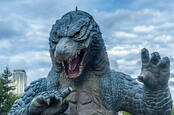 US Air Force puts Godzilla in charge of autonomous warfare effort with Project Kaiju
Japan's government therefore devised a plan to spread datacenters around the nation, to improve resilience and because spreading the supporting comms infrastructure around the nation is a nice secondary benefit. It's also hoped that if Japan can develop more viable datacenter sites, it could score some new investment as datacenter operators seek new locations to satisfy the growing demand for computing resources.
That's why the government sought expressions of interest from regional areas willing to consider hosting future datacenter builds.
Yesterday the nation's Ministry of Economy, Trade, and Industry revealed that over 100 regional governments put up their hands to be considered as datacenter hosts. The Ministry now plans to consider their proposals with a focus on resilience, before eventually subsidizing builds in the hope of attracting private investment in new facilities.
No timeframe for that effort has been set.
Japan is not alone in planning a regional datacenter shift. China plans a massive migration of urban datacenters to its western regions, where land and renewable energy are plentiful and cheap. ®
---
Other stories you might like
Huawei reportedly furloughs Russian staff and stops taking orders

Chinese giant still hiring in Moscow – for some very interesting gigs

Chinese telecom giant Huawei has issued a mandatory month-long furlough to some of its Russia-based staff and suspended new orders, according to Russian media.

"There are no orders, so why should people go to the office – in a month the vacation will either be extended, or employees will be returned from it," an anonymous source told Forbes Russia.

The business mag also reported that Chinese nationals working for Huawei Russia are still going to the office.

Microsoft's huge Patch Tuesday includes fix for bug under attack

April bundle addresses 100-plus vulnerabilities including 10 critical RCEs

Microsoft's massive April Patch Tuesday includes one bug that has already been exploited in the wild and a second that has been publicly disclosed.

In total, the Redmond giant patched a whopping 128 bugs today, including 10 critical remote code execution (RCE) vulnerabilities.

First, though: CVE-2022-24521, which NSA and CrowdStrike security researchers reported to Microsoft, is under active exploitation. It's an elevation-of-privilege vulnerability, and it occurs in the Windows Common Log File System Driver. 

Intel ships mystery quantum hardware to national lab

Argonne boffinry nerve-center is building a qubit computer with x86 giant Inside

Intel sees quantum computing as the next step beyond today's CPUs and GPUs, and this week took a step ahead in delivering such a system.

The chipmaker is sending quantum computing equipment to the US Department of Energy's Argonne National Laboratory (ANL) where it will slot into a real-world quantum system being built at ANL.

"The Intel piece will be the first major component installed in Argonne's quantum foundry, which will serve as a factory for creating and testing new quantum materials and devices. It is expected to be completed this year," the national lab said.
Stolen-data market RaidForums taken down in domain seizure

Suspected admin who went by 'Omnipotent' awaits UK decision on extradition to US

After at least six years of peddling pilfered personal information, the infamous stolen-data market RaidForums has been shut down following the arrest of suspected founder and admin Diogo Santos Coelho in the UK earlier this year.

Coelho, 21, who allegedly used the mistaken moniker "Omnipotent" among others, according to the US indictment unsealed on Monday in the Eastern District of Virginia, is currently awaiting the outcome of UK legal proceedings to extradite him to the United States.

The six-count US indictment [PDF] charges Coelho with conspiracy, access device fraud, and aggravated identity theft following from his alleged activities as the chief administrator of RaidForums, an online market for compromised or stolen databases containing personal and financial information.

AI-powered browser extension to automatically click away cookie pop-ups now promised

Tool disables non-essential tokens

A team of researchers at University of Wisconsin-Madison and Google say they have found a way to use artificial intelligence to neutralize manipulative cookie consent pop-ups that have become ubiquitous on the web.

The project, revealed this month and dubbed CookieEnforcer, has the goal of automating the clicking through of choices in these online consent forms to disable all non-essential cookies on a website. The resulting software can therefore spare netizens from having to manually reject cookies presented by a website.

When confronted with cookie popups, which are required by European law and other legislation, many users simply click "accept all," despite the fact that unnecessary cookies may compromise privacy, the project's paper stated. Some of the organizations forced to implement these pop-ups have designed them specifically to be tricky to navigate, or use dark patterns to fool someone into selecting the opposite desired option, to discourage people from disabling tracking cookies.

Intel acquires private 5G network provider Ananki

Startup sells software and hardware as a subscription to make private 5G easy

Intel has acquired private 5G network provider Ananki, several months after the startup spun out of the non-profit Open Networking Foundation to commercialize open-source network technologies.

The acquisition was confirmed Monday on LinkedIn by Guru Parulkar, who was co-founder and CEO of Ananki and executive director of the Open Networking Foundation.

Oddly, Intel declined to comment on the Ananki acquisition and instead only confirmed a development that Parulkar said was related: that the Open Networking Foundation's development team has joined Intel's Networking and Edge Group. Intel's statement echoed a quote provided by top Intel networking executive Nick McKeown in a press release published by the non-profit.