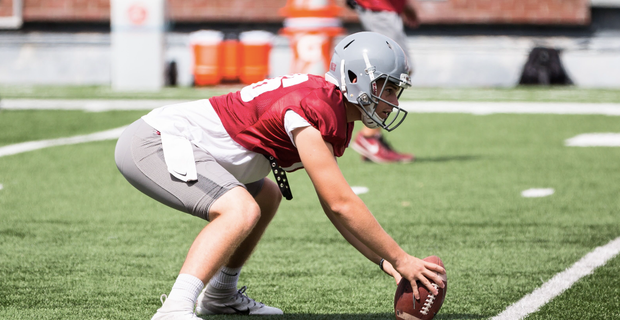 A GUY WHO STARTED every game for the Cougars the last three seasons is headed to the transfer portal, but the guess is that unless you're a devout Cougar fan, chances are you're not exactly sure who Tyler Williams is. Given the position he plays — long snapper — that fact suggests the walk on from Los Gatos did a great job while he was in crimson.
He was the snapper on all of the Cougars' field goal and extra point tries over the last three season. Simon Samarzich handled snapping on the punting unit.
They were a two-man long snapping crew, which is highly unusual. Most teams go with one guy for both placements and punts.
The fact Williams put his name in the portal should come as no surprise. He never was put on scholarship at WSU and wasn't going to be in 2022 either. That's because Samarzich is the rare long-snapping talent who earned a scholarship right out of high school. He came to WSU in 2019 and is expected to be in uniform each of the next two years.
For a team to devote one scholie to a long snapper is not unheard of, but allotting two for the position certainly is. 
The Williams-Samarzich tag team of the last three seasons continued a remarkable trend of long snapping excellence and stability for the Cougs, going back roughly 15 years with the likes of multi-year standouts Zach Enyeart, Alex Den Bleyker, Lucas Gravelle and Kyle Celli.
The pipeline appears to be filling, too. Luca Rodarte, a senior at Central Catholic High in Portland, announced the other day that he's accepted a preferred walk on invitation from WSU. Rubio Long Snapping rates him 5 stars, which they define as "perfect mentality" with the "size, athleticism, spiral, speed and consistency" to start at any college or university on Day One.
12 Consecutive snaps! @TheChrisRubio @ccramfootball pic.twitter.com/XMLg2aMfM7

— Luca Rodarte (@lucarodarte3) February 2, 2022
WSU MEN'S HOOPS GAMES against Washington and Oregon State that were postponed for covid-19 reason earlier this season were officially rescheduled this week. The Cougars will host UW on Feb. 23 and travel to Corvallis to meet Oregon State on Feb. 28. Both games tip at 8 p.m. and will be on ESPNU. And both are games WSU likely must win to keep its NCAA Tournament hopes on track.
Washington at home is a Quad 3 game while Oregon State on the road is a Quad 4 game. With the Cougars' current resume, they cannot afford many, if any, missteps, and losses to either of these teams would be the definition of such.
ESPN bracketologist Joe Lunardi has WSU third on his "First Four Out," with the Cougars teetering on Lunardi's bubble. Wins against top teams like Arizona, UCLA, USC and Oregon would push the Cougs closer to the field; while losses against the likes of UW, ASU and OSU would drop them back, and maybe out.
While a 14-7 record and 7-3 Pac-12 record isn't necessarily mind blowing, the Cougars' tendency to either blow teams out or lose close games actually helps their resume. The Cougs are plus-229 in point differential this year, meaning they've generally either won big, or lost by a possession or two.
Related: WSU's biggest game of season Thursday vs. Arizona
ON THE WOMEN'S SIDE OF the court, the Cougs currently are among the "Last Four In" to March Madness, according to ESPN bracketologist Charlie Creme. The Cougs are No. 57 in the latest NET rankings. They're 14-7 overall and 6-4 in Pac-12 play, with five-straight home games coming up. The first is Wednesday at noon against No. 24 Oregon.
WSU's leading scorer, Charlisse Leger-Walker, this week was named one of 10 finalists for the Ann Meyers Drysdale Award, which is given to the nation's best shooting guard. She  is averaging 17.2 points per game. She also is averaging 5.5 rebounds per game, is first in the team in steals (37), and second in assists (53) and blocks (20).
WSU'S BASEBALL SEASON BEGINS IN a little over a week, at Hawaii on Feb. 18. This Thursday, the team will hold a virtual fan camp which will provide information on the season, the RV program and more.  It starts at 6 p.m. Coach Brian Green offers up a preview of his lefty-heavy ball club HERE.
THIRTY-NINE COUGARS were named to the Pac-12 Fall Academic Honor Roll; defined as student-athletes with a cumulative grade point average above a 3.3 who have been at their respective institution for at least a year. The list includes 11 football players, 9 soccer players and 3 volleyballers:
From football: Andrew Boyle/Biology, Joshua Erling/Finance, Ma'ake Fifita/Mechanical Engineering, Dean Janikowski/Digital Technology and Culture, Armani Marsh/Social Sciences, Quinn McCarthy/Sport Management, Christian Mejia/Kinesiology, Drake Owen/Marketing, Simon Samarzich/Sport Management, Kyle Thornton/Economic Sciences and  Seth Yost/Accounting.
From soccer: Brianna Alger/Business Administration, Elyse Bennett/Psychology, Elaily Hernandez-Repreza/Criminal Justice & Criminology, Grayson Lynch/Human Development, Sydney Pulver/Business Administration, Bridget Rieken/Advertising, Liz Weis/Finance, Marin Whieldon/Human Development and Marissa Zucchetto/Humanities.
From volleyball: Logann Golden/Sport Management, Magda Jehlarova/Management and Jasmine Martin/Psychology.
MARK YOUR CALENDARS: After a two-year, covid-induced absence, CougsFirst! is back this spring with its popular trade shows and networking events in Spokane on April 27 and Seattle on May 18. Click here for details and registration. In addition, CougsFirst! will be back with its QB Classic golf tournament, featuring former WSU quarterbacks going back to the 1960s, on April 22 at Palouse Ridge. The event is co-hosted by Jack Thompson, Matt Kegel and Alex Brink. Click here to join the fun. The timing of the tourney is perfect, because the Cougar football team will hold its annual Crimson and Gray Game the following day.