One takes medication to Poland from US; another risks life in Ukraine to deliver aid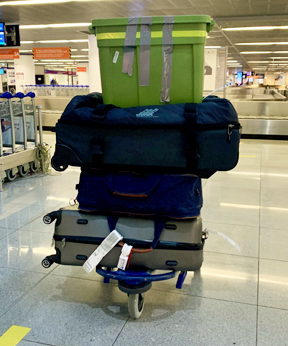 Photo by Dr. Laura Coffee
Dr. Laura Coffee collected 200 pounds of donated medical supplies and loaded them into four oversized containers for a trip to Poland, so that they might be distributed in Ukraine.
It was with relief that Dr. Laura Coffee found her ride waiting, having just lugged 200 pounds of drugs and medical supplies through the airport in Kraków, Poland. Her driver, a friend of a friend, was a welcome sight after an 18-hour overseas flight from Washington, D.C.

Coffee, a 42-year-old anatomic pathologist with Zoetis Reference Laboratories, had just 48 hours earlier asked her employer for time off to take an impromptu five-day mission starting March 14. No stranger to aid work — as a child, she watched her mother send donations to countries in Africa, where, as an adult, she traveled with Veterinarians Without Borders — Coffee described feeling compelled to volunteer for Ukraine after reading about veterinarians in crisis caring for patients as Russia's assault on the country rages.
"I really feel a calling to do this," she said in an email that secured the company's blessing. 
Coffee's efforts, however remarkable, are not unique. Russia's war on Ukraine and the subsequent refugee crisis have prompted an outpouring of sympathy and solidarity from around the world, drawing aid organizations and humanitarians on solo missions to Ukraine's border. At least one other U.S. veterinarian, Dr. John Geller of Fort Collins, Colorado, is in Romania, examining and vaccinating refugees' animals so that they might be permitted into Europe, according to a local news report. 
Coffee said she called on neighbors and friends, some with the Polish embassy, for contacts near Ukraine. With their help, Coffee lined up transportation and a place to stay. She collected donated drugs and equipment from a specialty referral hospital in Northern Virginia.
Finding herself at Dulles International Airport with three suitcases and a tub of supplies destined for Kraków required a heap of resolve and less than a week's worth of frenzied planning, which Coffee attributes to her aptitude for organization and execution. "There was definitely some drive that helped me get this done quickly," she said this week in an interview with the VIN News Service. "I'm very mission-driven."
In a borrowed apartment in Kraków, Coffee unpacked and sorted her inventory by organ system and created a modified formulary. Armed with a phone locked on Google Translate, she appealed to local shoe shops for empty boxes, into which she packed and labeled the drugs and supplies to create tidy care packages.
"My experience in Africa taught me to look around and find resources available to you," she said, by way of explaining the shoeboxes. "Rather than bring something in, you use the resources locally available."
Passing the two dozen boxes to European aid organizations initially presented a challenge. "I went over with a specific mission of getting drugs delivered to veterinarians, but some larger groups on the ground were not happy to see me," Coffee said, declining to identify which ones she encountered. She eventually made enough inroads with aid organizers to ensure to her satisfaction that the supplies would end up at appropriate destinations in Ukraine.
Asked why she chose to volunteer outside of established humanitarian and animal welfare groups, Coffee explained that larger organizations can be less nimble. "Large aid organizations do a great job, but they move slowly," she said. "In the meantime, people are just in abject need."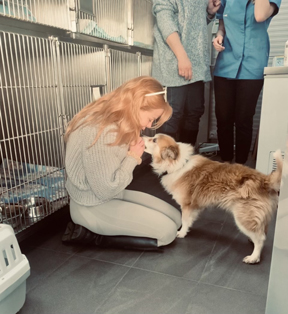 Photo courtesy of Dr. Laura Coffee
Dr. Laura Coffee visited a veterinary practice in Poland, where she bonded with a dog from Kyiv injured by shrapnel. Speaking of the refugee who crossed the border with the collie mix, Coffee said, "Someone got him out of there, and whoever did that is a remarkable human."
The United Nations High Commissioner for Refugees reports that of the nearly 4 million people who have left Ukraine since the war began on Feb. 24, nearly 2.3 million have gone through Poland, many with pets. Coffee described Kraków, a southern city about 165 miles from Ukraine's border, as bustling with refugee activity.
She said many who cross into Poland do so with plans to stay with friends or family locally, or elsewhere. "This is not like Afghanistan; there are no refugee camps," she said. "These people have been through hell, and they're coming to Poland, where they're placed in a family's home, apartment or hotel. Buses are at the border, dispersing people throughout Europe. It's remarkable."
From Kraków, Coffee did not witness border crossings or signs of war. "I never felt unsafe … it was all very distant and abstract," she said.
The refugees, however, were anything but. Coffee told of Ukrainians navigating the Main Market Square in Old Town Kraków in search of transportation. "They were easy to identify," she said. "You'd see families walking through, carrying, like, 16 plastic bags, and they'd just have a look. You could just see that they were operating under extreme pressure."
Before returning to the U.S., Coffee took her empty suitcases and tub to the town square. "I was able to give away all four of those huge suitcases to different families," she said. "So when I came back, I just had my backpack."
What might seem like an insignificant donation can mean a lot to someone in need, Coffee said. "People were so appreciative …" she said. "The big aid organizations do a lot of great work. But I think I've adopted my mom's belief that small contributions can make a big difference to a small number of people, and that's also important."
Inside Ukraine
Near-constant bombardment by the Russian military has added a layer of danger to delivering goods within Ukraine. Low on food and practicing without electricity or running water, Dr. Andrii Klietsov took matters into his own hands last week, when he got into his Subaru and embarked on a journey to move 3,500 pounds of humanitarian cargo from Kyiv to his practices in Sumy, near the Russian Federation border.
What normally would have been a day's drive took seven days in five different vehicles, which he changed to evade Russian forces.
"I risked my life to do it," Klietsov told VIN News on Wednesday, having just delivered bags of food to feed homeless animals, many of them pets injured and abandoned during the military invasions.
As head of the Union of Veterinary Owners in Ukraine, Klietsov, who spoke to VIN News over the messaging platform WhatsApp, is in close communication with practitioners. Dr. Olexander Klimenko of Sumy shared video on social media last month of his home, leveled and charred by a Russian attack. On March 8, bombs fell on two clinics in Okhtyrka, south of Sumy, one of which was owned by Dr. Mariya Zhuk.
"Now that the office is broken, I treat pets at my home," she told VIN News via the social networking platform Telegram.
Klietsov said stories of loss among veterinarians are common. "Lots of doctors in these occupied territories, as a result of the horrible bombings, were left without their clinics and homes at all," he said.
Exactly how many veterinary practices in Ukraine have been destroyed, he doesn't know. Sharing the location and condition of medical facilities is discouraged by Ukrainian authorities, who fear the information could be used to guide shelling by Russian troops, he said.
However, he said, it's no secret that the leveling of veterinary practices and animal shelters in the country has created urgent problems: a lack of space in which to store supplies and equipment that are still in working order, and the ability to replace what's been ruined.
"We really need help to buy used equipment in order to start working to help animals that are suffering in this war. Lots of pets are injured," Klietsov said. "Our nonprofit organization has not received any help since the beginning of the war."
The group's website — uacbbc.org — is temporarily not working due to "external interference," Klietsov reported.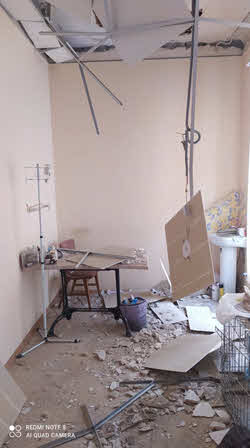 Photo courtesy of Dr. Mariya Zhuk
Russian attacks on Okhtyrka in the northeastern Sumy region of Ukraine destroyed several of the city's veterinary practices, including this one owned by Dr. Mariya Zhuk.
Some aid has filtered into the country via the Ukrainian Small Animal Veterinary Association, which recently received $25,000 from the American Veterinary Medical Foundation, the charitable arm of the American Veterinary Medical Association. 
The AVMF, in partnership with Merck Animal Health, has directed $200,000 to help support veterinarians and animal welfare groups in the war-ravaged country and in bordering countries aiding refugees. The AVMA is encouraging its members and the general public to consider donating to the AVMF in support of relief efforts. 
A practice called Good Grace in Nikopol, a city in central Ukraine, took to Facebook on Wednesday to acknowledge the USAVA and its president, Dr. Vladlen Ushakov, after receiving donated food and medication.
"Thanks to this, our programs to help those in difficult situations will be restored," the post reads. "The drugs we received will be free."
Another $500 worth of drugs will be sent to veterinary clinics in Poltava and Sumy, Ushakov reported Wednesday on Facebook. He promised to post a daily tally of donations received and spent, for transparency. "All funds received by USAVA during the war are used exclusively for the needs of veterinary medicine of small animals of Ukraine," he promised.
Coping with weeks of war

Dr. Vitaliya Sabashuk, a veterinarian in Kyiv with an interest in dermatology and gastroenterology, has found she's become adept at blocking out the sounds of sirens and explosions. She tries to keep a sense of normalcy by going to work three days a week, practicing alone in what once was a bustling hospital staffed by six doctors.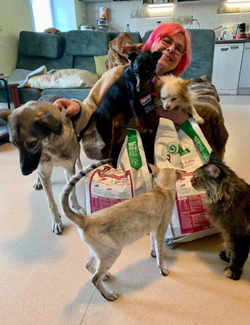 Photo by Olena Sabashuk
Dr. Vitaliya Sabashuk, pictured with some of her pets, says she's running low on medications to treat her patients in Kyiv.
Animals are anxious, Sabashuk said. Reached by Telegram, she wrote that her workdays consist of seeing a lot of cats with pancreatitis and urinary tract problems due to stress. She has plenty of pet food, but to treat her canine and feline patients, Sabashuk needs drugs — antidepressants, heart medications and the like — many of which she's low on or lacks entirely.
"Not all suppliers are working," Sabashuk said, explaining that driving to pick up donations isn't an option. "There is a problem with petrol [supplies]." 
Sabashuk said she shelters at home in the evenings with her mom, three dogs and seven cats. She won't leave the animals to flee Ukraine, a country she's deeply connected to. Several times a week, she blogs about her thoughts and experiences on Facebook. 
Posts typically begin with a "good morning" to her cats and end with expletives for Russia. On March 29, she wrote: "Yesterday was very loud … And so, you hear an explosion, and for some moment the heart dies, skips a blow, and you're so nervous … but we get used to everything.
"Worked well, grinding my surgery skills. So if someone needs to neuter a cat, you are welcome," she offered.
VIN News Service commentaries are opinion pieces presenting insights, personal experiences and/or perspectives on topical issues by members of the veterinary community. To submit a commentary for consideration, email [email protected].